App Platform
Using our do-it-yourself platform, scan your website for content and fill in any additional information. Choose from pre-made templates or start from scratch. Quickly build Native iOS, & Android apps.

App Management
24 / 7 secured app hosting, app platform access, create, design, manage, publish & distribute with ease.
Start Building Your App For Free!
Green Zebra makes mobile apps affordable and simple for small businesses. Sign-up! and build your own app, You don't pay a dime until you're ready to launch your app.  Want it designed & Done for you?!  Great! We have affordable pricing to get started.
Get My Mobile APP Now
How We're Unique
Geo Target Marketing
100%
Build Your Own App For Your Business
Create & Launch Your App Design And Execute With Ease.
Step 1: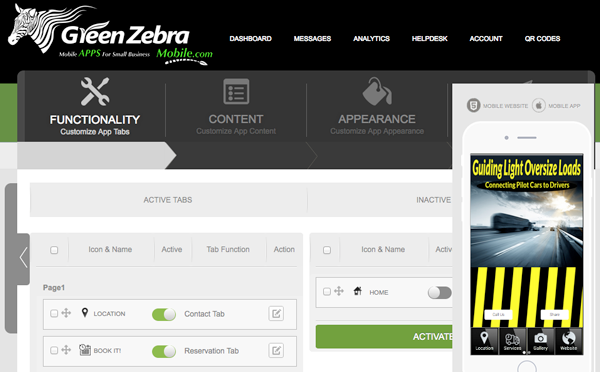 Complete Control
Powerful, Simple, and Easy
Your brand is unique, and that shouldn't change when you develop an app. Green Zebra gives you complete control over every aspect of the finished product—from functionality to aesthetic—with our versatile builder.
Choose from hundreds of pre-made templates to gain some inspiration, or set out on your own and build an app from scratch. On our platform, you're the builder, designer, and publisher. No overpriced college degree required.

Secure Your App
Scalable, Reliable Mobile App Hosting
With our 99.9% server up-time, your mobile app will always perform at its very best.
---
Launch Your App
Beautiful, Elegant Design
Easily publish your app on all three platforms: iOS, Android, and HTML5 (Mobile Websites). Scannable QR codes provide a hassle-free solution to marketing your app and building your user base.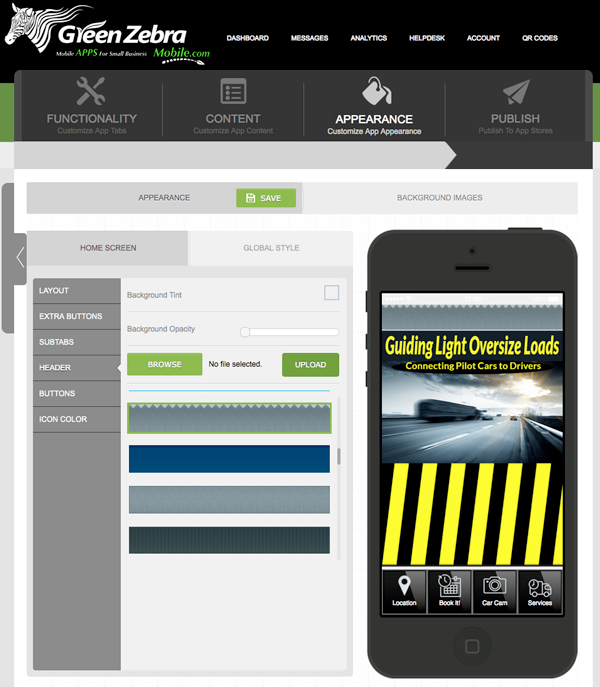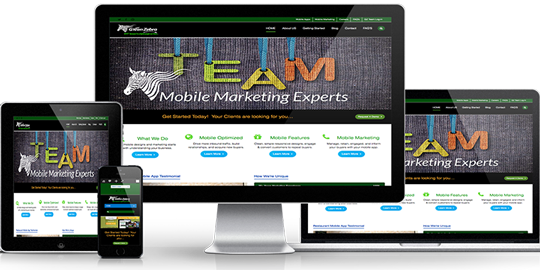 .
Mobile App Testimonials & User Experience
Working with the Green Zebra Media team over the last two years has changed the way we look at online marketing and how we utilize videos in our search engine ranking efforts. We have already budgeted additional spending for the next fiscal year for additional services.

Beams Interactive

Green Zebra has been wonderful on Guiding lights responsive website Pilot cars for oversize load services.  They have held my hand through the entire project. Within 48 hours began receiving calls and leads for services

Talented team - Their vision and creativity on our mobile app project will change our industry forever.

Guiding Light - MyPilotcars .com

Green Zebra Mobile which focuses on small businesses, allows users to easily create, edit and manage an app online without any programming knowledge.

The New York Times

At Green Zebra mobile an owner can start by picking an industry-specific template; there are offerings for restaurants, bars, gyms, and others

The Wall Street Journal

Considering how cheap the service is and that apps are custom-made for each business - I think SMB Marketing has great potential.

Tech Crunch
Small Business Mobile Apps User Testimonial
Mobile apps for reservations user testimonial
Restaurant Mobile App Testimonial