GET MOBILE WALLET DIGITAL CARDS
Replace Paper, Re-allocate Digital, Implement Mobile Wallet Digital Loyalty Cards
More than 200 million iPhones today use this mobile wallet technology.
More than 80 million USA mobile users ages 22 to 36 want digital cards for mobile convenience.
The New Digital Wallet
Exploit the Potential –

Give your mobile users immediate access to your products, services and promotions


Digital Wallet is the fastest growing and most on the spot mobile marketing service today.  Mobile users are taking full advantage of the great innovations that mobile wallet technology offers.
Example Digital Card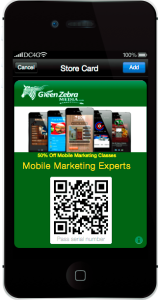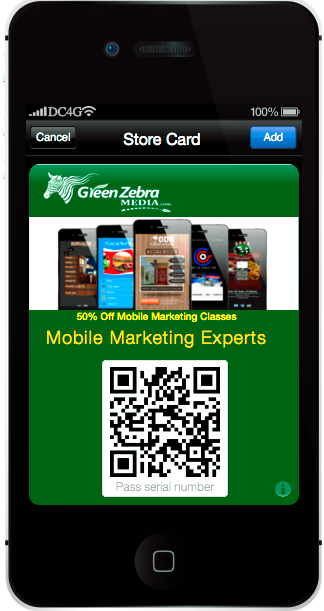 Add A Digital Card - Test for Yourself
Find the Passbook app on your iPhone, It's easy, promise!
Open it up, Look for PASSES at the bottom of the phone
Click scan code
Place QR viewer over the QR Code below and your done.  That easy!
Flip the digital card over for more info
iPhone Url Click to download -> https://p.localpass.co/Ty7wpP

Green Zebra's  Digital Training Card

Take Advantage Now, Its Your Competitive Advantage.
Just because you don't know, doesn't mean its not happening…
Apples's built in iPhone App is called "Passbook" designed as an
organizer for an entire collection of credit cards, digital coupons, memberships, loyalty programs and more.
How It Works!
Purchase, Design, Activate & Distribute Mobile Wallet Digital Cards

Reach mobile users anywhere, anytime, real time, everywhere that drive ROI
Digital Cards Works with…

Add iBeacons Proximity Technology:
Ideal addition to Mobile Wallet & Social Wifi technology
What are Beacons?
Apple has implemented a technology called iBeacon (Beacons in general) which works with Bluetooth Low Energy (BLE) wireless technology to allow location-based information to iOS devices.This technology also works with Android Phones.
Beacon can be compared to a lighthouse. Lighthouses constantly send out light signals to ships to help them know how to get to their destination. A beacon constantly send out a broadcast radio signals (like the light of a lighthouse) that allow compatible devices to detect these signals and understand what is nearby.
When paired with your LocalPass any customer who has your passes in their mobile wallet can interact with your Beacons. Imagine a loyal customer walking by a store and getting a lockscreen notification on their smartphone with a "2 for 1" offer valid today only for being a loyal customer. This and more is all possible when you get started with LocalPass!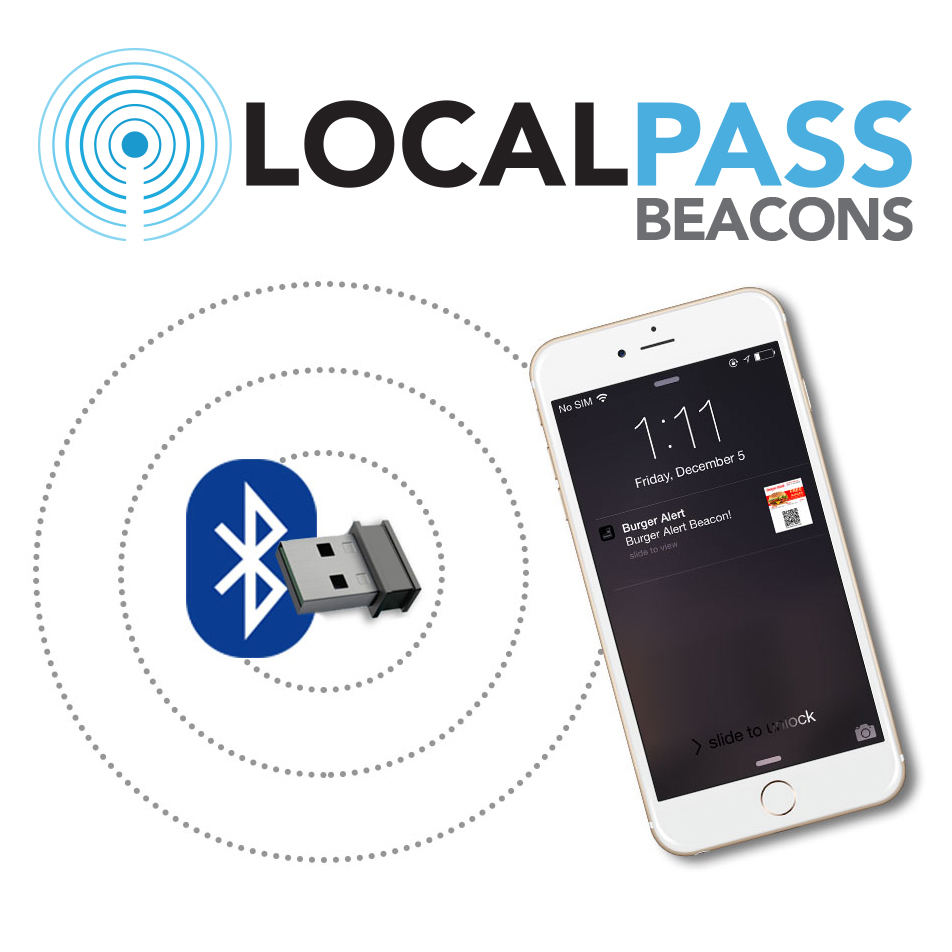 Benefits of Business Beacons:
Entice customers to visit in-store with strategic and enticing messaging and offers
Increase sales by sending customers location based coupons and offers
Enhance customer loyalty by delivering a better customer experience
Increase brand awareness and build relationships with customers